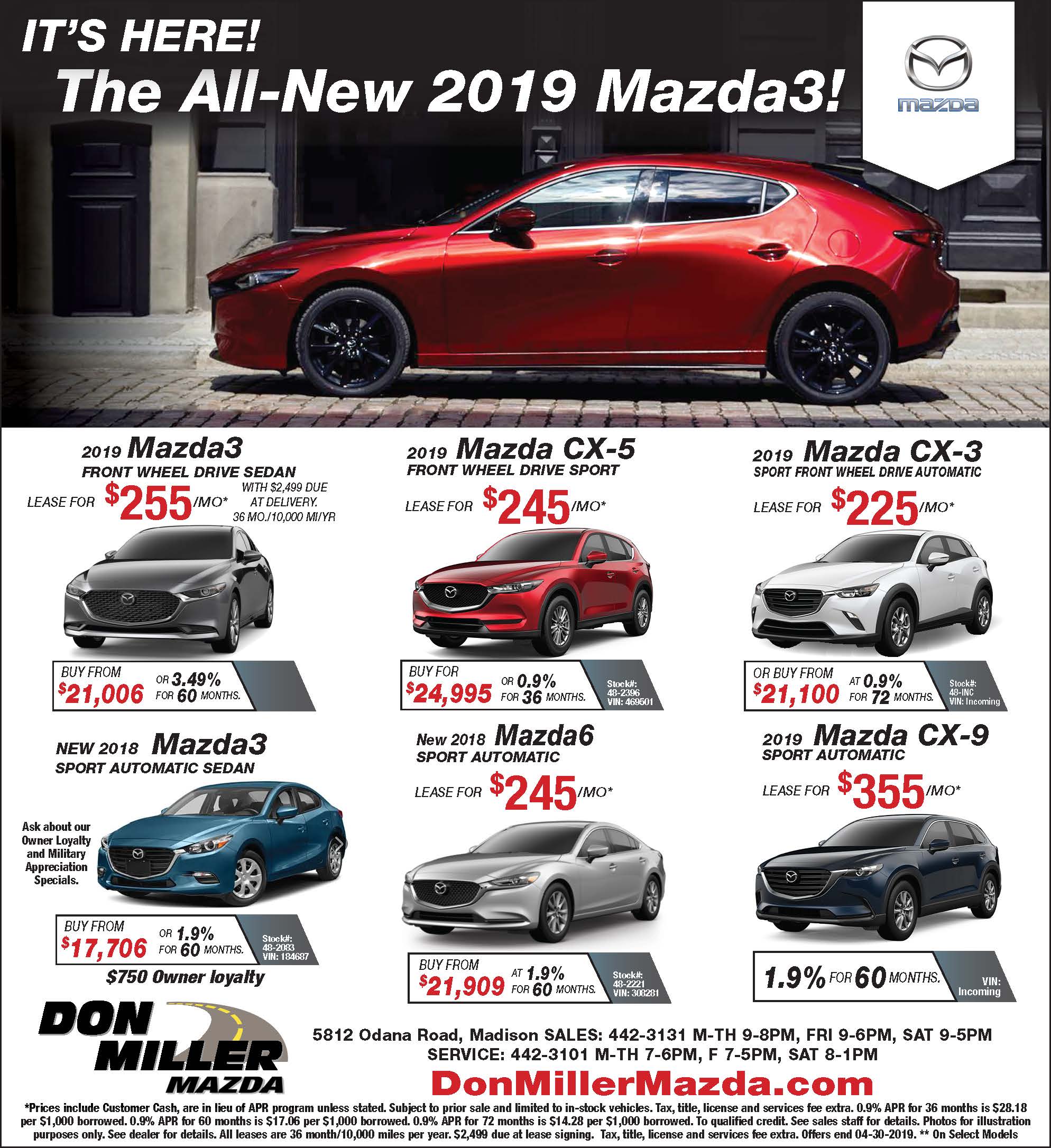 Driver's in the Greater Madison, Fitchburg, Middleton and Janesville Areas are Revved About Don Miller Mazda's Expansive Lineup of New Mazda Models and Used Cars
If you are a new or veteran Mazda enthusiast in the greater Fitchburg, Middleton and Janesville area, you're in the right spot! Don Miller Mazda offers an envious selection of the season's hottest-selling Mazda models as well as wide selection of reliable used cars.
In understanding that every driver wants to shop for a car differently, Don Miller Mazda invites you to explore our new Mazda and inventory of used cars in Madison, WI online or in person. Whatever you prefer, just know, our expert staff is renowned in and around Madison, Wisconsin for their ability to listen to drivers' needs, and help them find just the right car and/or services to suit their lifestyle.
In exploring the new Mazda inventory available at our Madison-area showroom, you'll find everything from classic picks to new favorites, including the Mazda3, Mazda CX-5, Mazda CX-3 and Mazda CX-9. And while, you can do much of your pre-buy research online, Don Miller Mazda, serving Madison, Fitchburg, Middleton and Janesville is always happy to share specs, compare different models and present you with other options that might also suit your lifestyle. Our ultimate goal is for you to be satisfied with your decision for hundreds of thousands of miles to come.
Of course, Don Miller Mazda also has an extensive assortment of well-maintained used cars in Madison, WI. These include Mazda models, as well as those made by other reputable automakers. If you find it here, you know it's backed by integrity.
Hassle-Free Mazda Financing for Drivers from Madison, Fitchburg, Middleton and Janesville... Just Another Reason to choose Don Miller Mazda
If you're like the majority of drivers who visit the new Mazda and used car showrooms at 5812 Odana Road Madison, Wisconsin, you need financing. We know...most people cringe at the word. But, at Don Miller Mazda, serving Madison, Fitchburg, Middleton and Janesville, you don't have to. Our loan and lease wizards work their magic so that you get the best, hassle-free auto loans and financing you could imagine. Why do we work so hard to get the terms and conditions you need? So that you can fully enjoy the inherent joy of buying a new or used car without anything getting in the way.
Our commitment to excellence doesn't end when you sign the dotted line. Rather, we have a state-of-the-art auto service & repair center under the same roof to ensure you have nothing but a love-love relationship with your new ride. From oil changes to tire rotations - we do it all; so that you don't have to.
What if you like fixing cars? Kudos to you. We certainly won't stand in your way. We will, however, suggest you keep your car genuine with certified OEM Mazda parts in Madison. It's an easy way to avoid regret. And, to give you more time to perform the actual maintenance or repair, we even have a fast, easy-to-used online parts order form.
Contact Don Miller Mazda today if you have any questions or if you'd like to schedule a service appointment now. We look forward to meeting you soon and serving you for many more years to come.